Thank you again, everyone, for voting my "Boho Gypsy-Chic" Buffy icon 1st place at
btvs_hush
Challenge 283
! And thank you
dragonydreams
for all your hard work, your patience, the lovely prize banners, and for running such a splendid community. Three of my entries starting with the winner; the fourth, a blood-spattered stake, is after the cut:



01-03
Miss Boho Gypsy Chic (
#1
) wasn't my favorite of my entries;
#2
was. (Except when
#3
was.) But she was something very new for me; I learned a few tricks making this batch and I've become fonder of her since I made her. She's like the beadwork necklaces I used to make, intricate latticework and all I could see was the flaws and the knotted thread; until the day came when I stopped seeing the flaws because I couldn't remember where they were anymore. But none of these was my favorite of all the entries I made for this round.
These pretty ladies were:



04-06
4 or 5 was meant to have been my fifth entry except I
forgot
to enter one of them.
*headdesk*
I probably would have gone with
#4
as my last entry because it has some lovely light effects but is somewhat more more "realistic" than
#5
, which is more stylized and very much to my taste but perhaps no one else's? The photo collage effect is the same one I used in my Comics icon from
Round 1
of
btvsats20in20
(
The Chain
). It's very tricky and best used sparingly but when it works, it
works.
Either way, I was thrilled with how they came out.
I'll always wonder, would I have still won first place that round with one of those three, or not?
More icons and some banners after the cut, including my fourth entry in this round.
Warnings For
: Blood spatter imagery. Vague Disclaimers: All snaggable. Wanna play with any, add text, make the banners better? Just let me know, give me a look-see and proper credit. Outright plagarism and theft however are beneath you and rude besides, so don't do it.
[
Now that that's out of the way - the art gallery is this way....
]

07-09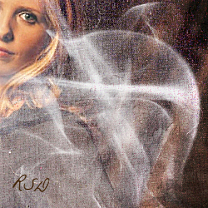 10-12

If you're wondering what I was thinking with 3 and 10-11? I don't know you tell me Having just done some icons for
slayerstillness Challenge 30 from this Greg Gorham photo I was trying to do something different with it from before. Ended up playing with a default light texture in ipiccy, a plume of light or smoke that somewhat resembled a wing when I canted it a certain way made Sarah resemble an angel in a Dutch or Flemish painting circa 1500 - 1700, Full disclosure: I respect the Italians but I've always personally preferred the Northern masters. I was delighted by the image of Buffy Angel of Death/Angel of Mercy/Angel of God, albeit a reluctant and singular one.

So ok, that icon is one of those "I'm the only one who's gonna get the joke but I amused myself at the time" type of things. Yes, I know Joss is an atheist. So am I as it happens. And....?

#12 was VERY nearly an entry, because I knew no one else would have entered anything like it, and I love architectural details, don't you?







13-16

My fourth entry (#13) with three variations; 13 is simply 15 flipped with added bloodsplash layer.These ended up resembling "comic book art" rather than photographs, so perhaps I was stil too unnerved to deal with it. If I gave it two seconds thought, a blood drenched stake doesn't make a lick of sense in the 'verse, unless it's human blood we're talking about. (Allen Finch in Bad Girls, Buffy herself in FFL.)
pickamix was the partial and indirect inspiration for the use of blood spatters or "blood play" in this set and my foray into some darker imagery of late, which I have yet to share with anyone. Because the other inspiration was one of the first formative events of my life; cue the anxiety...but never mind that now.

Amazingly enough, it didn't occur to me until after
dragonydreams had posted the entries that perhaps I shouldn't have used anything with blood spatters because it might be triggery for someone. I hope not but I apologize if it upset any one. I never would have guessed that you could google "blood spatter" and find all sorts of textures, some of which are pretty realistic-looking. Nor that I would have a folder of my favorite go-to blood spatter patterns. LIke this one: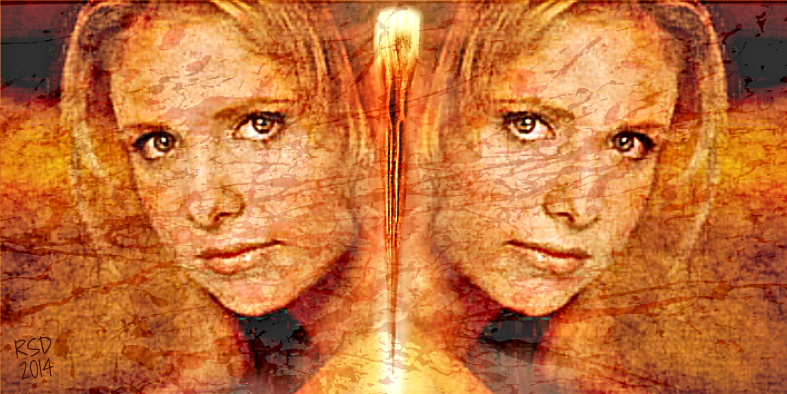 17

When I'm splashing blood on an image at the last minute to cover flaws, it's time to back away from the computer. This was mostly an exercise in trying to cut around an object (the stake) and apply it as a layer to mask the seam and my mistakes down the middle. Successful? Gosh no. (Really, SisterRed? A glowy stake - or is that a citronella candle?) But I kind of like it anyway. Sue me.



18-21



22-24

The "fresco series" I love the contrast of Sarah's "baby face" with the surface textures and colors. I was going for the effect of an ancient fresco l and I think I got what I wanted. Her face was a delight to work with, contemporary and timeless. I came up with the crop for 22-23 after the challenge deadline about five minutes ago. I wish I'd thought of it sooner, I might have entered that instead of #2.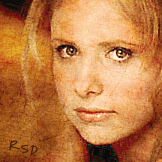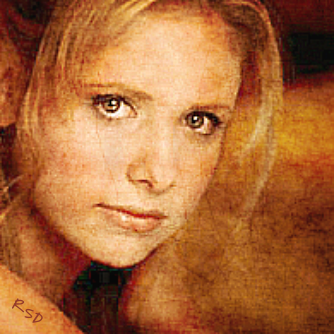 25-27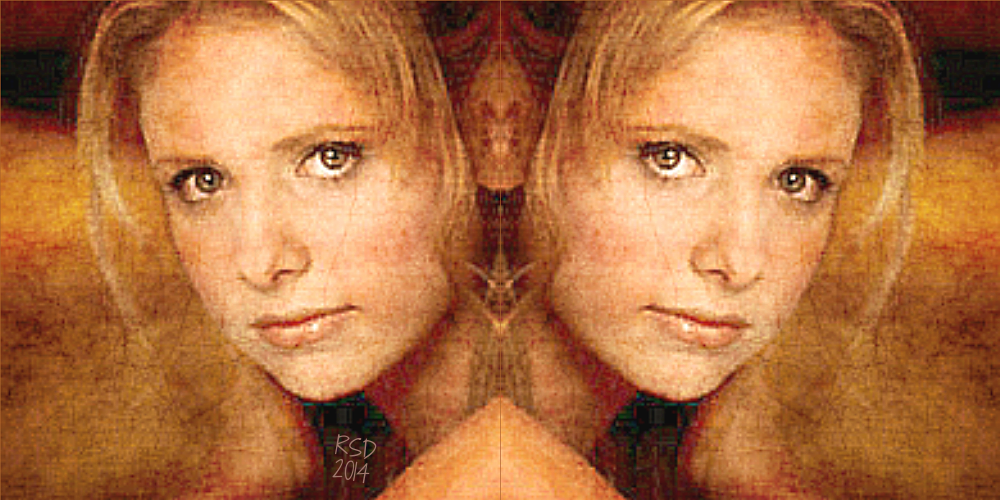 28


How the heck did a Hindu temple and a winged demi-god(dess) get into this image? Buffy is the guardian warrior priestess of a pagan cult? Who knew?

And finally - the big honkin' failure. I did some interesting (to me) stuff on this and learned a lot but what WAS I thinking when I turned Sarah into a Barbie doll? When I did the Tara set for round 3 I did a bunch that similarly oversmoothed her face until she looked like a Disney princess. Wisely I deleted all of them. Think I would've learned from that? Apparently not.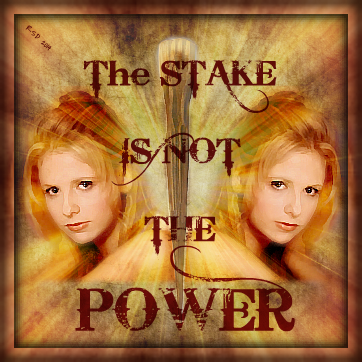 29

Profit from the errors of my ways, Gentle Friends!