Last night my sweetie and I went to our favorite local spot for craft beers on draft (she had two beers, I had 2oz of one) with hot baked asagio pretzel, had dinner at a Thai restaurant, and cuddle on the sofa of a coffeehouse/winebar/music venue to enjoy some downtime and life local musicians. And I managed not to think or at least FEEL my woes very much, the $10-15 dollars I shouldn't have spent be damned. And even not feel pissed off. Now that the beer and music have worn off and I'm back to feeling the fear, rage, betrayal, etc of
The Big Sucky Lemon
(TM) - I'm also back to distracting myself online with fandom pretties:
*** Cast your votes
here and now
(or as soon as you can, pretty please) for three tiebreakers in
Round 1
of
btvsats20in20
: 2 Cat icon placements, and one AC set placement. None of them are mine, so no worries about rulebreakin'. As of this moment (1:20pm est) the AC tiebreaker vote is locked in a three-way tie. Funny. But understandable, they're all so damn good. There's no sense of "this one is better than that, so I'm locked in the hopeless task of chosing the theoretical best among equals."
***
bangel_4e
posted the
Round 2 themes
, which means we
(read: me)
can all get an early start. If you haven't thrown your hat in the ring yet, there's still time - as with round 1, "
sign ups
will stay open during the whole round". Nifty. (Also, check out
bangel_4e
's gorgeous Round 2 banner. Serious lust issues, I am having.)
The one time I'm in an icontest with hair porn as a theme and I'm NOT doing Buffy? Oh of course, ha. I chose Vamp Willow for my claim before the themes were announced - all that black leather and blood and pancake makeup, lipstick and sex and swings any which way oh so bad goodness......oh, wait, I know the
perfect
screencap.
*wicked cackle*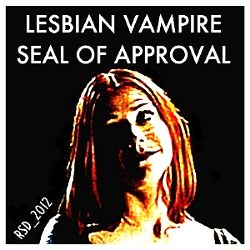 It's ironic that my Lesbian Vampire Seal of Approval icon was one of my first, if not very first, icon I made in this fandom, and the one that I would never switch, replace or "improve", even though I could do a much better version now. She's mine, folks - although I'm more than willing to share.
Last round I admit was intimidated by: icon tables (which I still don't like very much, html is sort of overwhelming still for me), and blending. Had not a clue how to do it, so I cheated with a collage, not a true "blend." But I think I'm starting to catch on - maybe?

Ok, not great, but it's the first time I've ever done this so points to me. It gets me one step closer to doing things I want to do, like fic banners. If there are any good tutorials on YouTube for ipiccy I haven't found them and their own site has a decided lack of, so it's me trying to figure things out and walk through the back door. The whole "layers" thing really weirds me out - "vector mask", what is this a chemistry test? A maneuver used by the Prussian army in the 19the century? I made a shot of The First from Sleeper into an icon and used it as a texture behind the TYG icon and - tah-dah! I got the job done.
This round, instead of blend, it's layers, which essentially is a collage. And I squee'd because "I know how to do that! I can do that!" Which is fun - my Willow-side coming out. I just wanna learn how to
build my own serial killer
stuff! And the more I learn, the more I want to learn; the more I can do, the more I want to be able to do.
I am the official Overexcited Child Who is Patiently Indulged by the Adults
(read: everyone else)
of Buffyverse Fandom. At your service.