Tomorrow my sweetie and I are going to NYC - she wants to see the 100th Armory Show on the Westside; stay two nights at the Pod 39 Hotel; then we'll hopefully go to Chinatown, and then Friday spend the day at the Brooklyn Museum of Art. including the Elizabeth Sackler Gallery of Feminist Art on the 4th floor featuring Judy Chicago's installation The Dinner Party (1982) which I've always wanted to see. (Never mind the concept of a separate gallery for "feminist" art as opposed to the presumably "regular" art. Baby steps, baby steps, bitty blah.) I wll have many things to report, hopefully.
Then when I come back we are packing and (supposedly) moving back into the old apartment; the renovation is nearly done! We saw it the other day - my sweetie's bedroom has been totally redone, new walls, flooring, windows, new moldings everywhere, paint and light fixtures, etc. they even took up two layers of ugly old linoleum and black glue in the kitchen to expose the original wood flooring. Beautiful job.
Which also means we'll finally be getting away from the people below us in the apartment we're in now and its worth anything just for that because SWEET MOTHER OF MOSES THESE PEOPLE DO NOT SHUT UP EVER. *ugh*
Ergo, if I don't get back to you anytime immediately or post a lot the next couple of weeks, you know why. I'll try to keep up with the macros, icons and suchlike - that shouldn't be hard, I've got 600 or so buffyverse icons sitting in my Photobucket. No lie.
In the meantime,
eilowyn
said not long ago that she loved "fluffy stories" about my sweetie and I; which of course meant I stopped telling them. ("But - we're not fluffy people, we argue a lot!" my brain protested.) Just like when someone paid for me to have a free account and
velvetwhip
said she looked forward to a "tsunami of polls" and I said "Me too!" And then have done maybe two since then. Or when my mom asked "What do you want for Christmas?" and I said "I don't know." EVERY. SINGLE. TIME. I absolutely shut down. (My sweetie gets the same damn answer to the same question btw. My brain hasn't changed in 40-plus years.)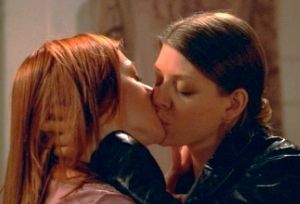 But last week we were in one of those big-box retail stores, the kind we drag ourselves into because we really need something and even then only upon pain of death, and I told her I felt a little light-headed. I think y'all know I have epilepsy and it's pretty well controlled on medication but those sorts of stores are not good for me: too brightly light, buzzing light fixtures, too much noise, too much sensory overload, etc.
So I said to my sweetie "Keep talking."
"Oh NO, don't you go letting your mind wander off!" (Having a seizure feels at first like you're going into a spell or trance, like a daydream.)
"That's why I need you to keep talking, because it helps ground me and keep focused on where I am. We talk, you annoy the hell out of me, I want to strangle you, it keeps me grounded. See how that works?"
She laughed.
And all I could think right was
how much
I love this woman, and how lucky was (am) to have her in my life after all these years.
Which is a good thing, because an hour or so later we wanted to strangle each other again.
Love isn't ribbons and bows, kids.