And this is where I pretend I'm such a mature, blase adult about such things - oh, screw that. I won third place in
otherworldlyric icontest #163!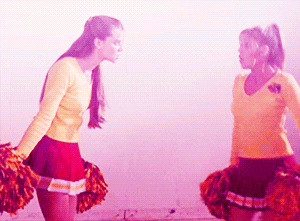 (But also, I won? Like, SRSLY??)

Thank you to everyone who voted! And congratulations to the other winners in this challenge,
chic_c and
spikesredqueen!
I had a hard time voting
this round
(as per usual) because there were so many lovely things to pick from. Two of the ones I voted for are in fandoms I'm not familiar with, so I had no idea who the characters were, I just thought they were wonderful icons. And I even voted for a Spike icon - I'm as shocked as you are! Then immediately after I hit the submit vote button I thought "Oh, no wait, but there's that other one too....Can I vote again?"

You know me. Given my druthers, I don't wanna enumerate them. I just wanna enjoy. *sigh*
Of course,
a thousand THANK YOUS go to my
agent, my manager, my stylist
beta
wickedbish
(Ryan); he specifically mentioned that Fading Away Fast icon as one of his favorites and I don't think I would have submitted it otherwise. I liked the icon very much - I loved the concept of it when I thought it up - but I wasn't entirely happy with the execution. (I wanted the effect of a more gradual fade on the colors on each word in the text.) I knew right away that I wanted to submit
#11
and
#15
(below) but I wasn't sure about a third choice.
ETA: OH DEAR, I forgot to thank
comlodge
for her very kind encouragments to me re: talking about the process of making these and the stories behind them; in essence, she's "given me permission" to open Pandora's box. (Thank you sweetie - I hope you don't regret it later!)
Here are my three entries, numbered according to the challenge number assignments:
1)
11)
15)

[
More icons and lotsa thinky-thoughts inside!
]
These represent two of my favorite episodes in the entire series; I made the Prophecy Girl icons first. #15 is probably one of my favorites of all the ones I've ever made. I really wanted the double-image of Buffy in front of the mirror as well as her reflection and was really happy with what I got. And I love that the font looks like graffiti scrawled it on the glass. This time around I was consciously trying to experiment with fonts I hadn't used before.




Have I mentioned before that PG is the first masterpiece

YOU MUST WATCH THIS

episode of the series? (Although I will ALWAYS argue that one needs to watch the season in it's entirety as well. Especially Nightmares and Angel.) That Sarah never fails to bring me to tears when I watch it? And Tony as Giles, standing in the library utterly useless despite all his efforts and intentions, just as Buffy accuses him of being...ugh. Heartbreaking.



#11 is a farther distance than usual for me (I tend towards close-up shots) but something about that distance visually emphasized Buffy's isolation in that moment, the lonely struggle with and against her own mind. I also loved the diagonal light and shadow lines on the wall; diagonals and asymmetrical compostions have alwayts appealed to me in art nouveau and Japanese woodcuts. The shadow offered a perfect canvas for the lettering and, again, the effect of graffiti on the wall.

Here's the remaining icons I made for that challenge, vaguely-sorta-kinda-not-exactly in the order I made them. Or something like that:



2)

3)

4)

5)
6)

7)
Please. Explain to me again why Sarah NEVER won an Emmy or any major award for playing Buffy, aside from that "Performances in _______ (fill in the blank) genre programs aren't deserving of serious awards love" b.s.
8)

9)

10)

12)
13)
14)
#10 was the other one Ryan suggested for my third choice, and I love how the "deer in headlights" effect emphasizes Buffy's struggle (
"traps for your mind").
But I almost submitted #5 as my third choice. I LOVE that one, perhaps for similar reasons that I love the PG one. I used the same font, but with small caps, for a graffiti effect that came out much better than I'd expected; it looks like Buffy has childishly, desperately, scribbled the words on the wall and then dropped the crayon in frustration or resignation. But I also almost went with #7 (or 8 or 9) because OH GOD HER EXPRESSION THAT FACE I HAVE NO WORDS FOR THIS MOMENT just total incoherence.
16)

17)

#16 - 17 OTOH are "meh" in comparison although I swear I did try my best. I do like the look of a vintage book illustration in #16; as with #11 it's a more distant shot than I often use but I think I got the mood of the moment. I actually am pleased with the way I caught Faith's expression in #17, from Touched, thanks to lots of adjustments in brightness and contrast (the source screencap is so dark). You can almost hear her panting here. I even like the detail of her fist in the lower corner, sort of a visual punctuation mark. There's something almost stupidly mechanical in this mano-a-mano confrontation between Spike and Faith in Touched, this power struggle that didn't have to happen. And I absolutely adore that entire scene and this moment especially,

fighting over Buffy and about her (they're both warriors, it's what they both do best) when it is so obvious that they

both

care about her very deeply:

"Where is she?" / "I don't know!"

Those crazy kids - god help me, I love them.

Speaking of love - I really wanted to make one with Joyce in Normal Again, but ran out of time and energy:

"Your father and I have all the faith in the world in you."




Oh dear.

Buffy has to go into a hallucinatory state to find the emotional comfort and support she needs in that moment - and the person who provides it is her mother. Of course it is. How can anyone watch this episode, never mind the entire series, and think that Joyce isn't the most important person in Buffy's life? Of course it's Joyce - not Giles or Hank, nor any of her friends or lovers. Not even Dawn can get through to her this time the way she did in Bargaining/After Life. Just as in season 7's Bring on the Night, the First appears to Buffy wearing Joyce's face, because no one could unsettle Buffy so deeply. It HAD to be Joyce.





LIkewise, it had to be Joyce in CWDP; Dawn fights as a warrior and magician with everything she's got, and is cut to ribbons far worse than Xander was in Grave, in order to save and protect her mother. Summers Blood is truly the blood of champions.



And whether NormalAgain!Joyce is a "bloody figment" hardly matters in this moment. Is this what the real Joyce would have said in the situation, or what Buffy would have wanted her to say? A bit of both I suspect.

Now I have a bit of a personal confession, so feel free to skip this if you're not so much into the person stuff:



I suspect that part of the reason I'm drawn to Normal Again is because when I was a teenager I was certain I was going to become mentally ill and locked away at some point in my life - is that a teenage angst thing or a "me" thing? And as an adult dealing with depression I've discovered that, yes, it is something you do battle with. Sometimes it IS a war, and you have to fight to stay alive. And sometimes it's just a friggin' slog. So, I identify.



I have no idea why I had this fear years before before my mother revealed a secret to me: that my father had taken his own life when I was about three years old and my brothers even younger, not an accident as she'd always claimed. (In the interest of our protection, I know. How do you explain that to three small children? My mother was in her early 20's when that happened; I was 3, one of my brothers 2 and the other a toddler. How do you explain that, ever?)

And it was at least another five years in addition to that before I learned that his brother had also taken his life, leaving behind a wife and two young daughters I never even knew about. My grandfather came for a rare visit after a trip from Alaska, and said my cousin had seen my picture in his wallet and asked Who was that pretty girl? My response:

"I have a cousin in Alaska?"

And another one in the midwest, as it turned out - both with spouses/partners and growing children of their own. Somehow I knew that my dad had a brother, but in the absence of information assumed he died in a war or something years ago. Like John Kennedy's older brother in the biography I'd read as a kid. Apparently that's what a child's mind will do - fill the vacuum with whatever bits they can find lying around. Perhaps not unlike the way Buffy assumes that her parents' divorce is a result of her father's disappointment in her; her brain fills the vacuum of polite silence and careful phrases that she wants to believe but can't entirely.

And here's a thought that just popped in my head: That there IS a reason why the theme of well-meaning adults hiding or keeping information from their children "for their own good" in the series resonates so deeply with me. *ponders this*

Families - you can't live with them....