I may be a slacker, but Buffy isn't: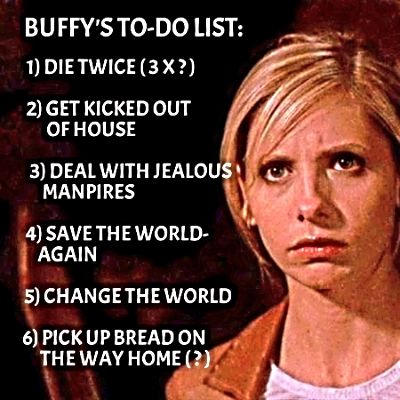 1) I was reading an elegant post-series btvs ensemble drabble by my friend Ray
kerkevik_2014
& he informed me that he couldn't access my journal from the library computer where he is (Scotland) because my site had been "censored". Me? Little ol' white bread good girl me? Censored?
MY PLANS FOR WORLD DOMINATION ARE RIGHT ON SCHEDULE! *lol*
2)
fttstar07
posted part 3 of her
Getting To the Truth
series re: Buffy's feelings for Spike in S7. Fun. (Granted, she posted a month ago but better late than never, right?)
3) An additional reminder, don't forget to vote for your favorite Faith icons
at the
slayerstillness
Challenge 18
. I encourage y'all to not wait until the last minute *cough* because apparently LiveJournal is going to be out
of
commission for some updates around, say, 6pm EST in the US. (Hopefully, maybe, they'll get that little "failure to send notifications" problem fixed? Pretty please?)
4) And finally:
norwie2010
's birthday was the other day, which gives me the perfect excuse to post some icons for his favorite episode, "Anne", which is also my
favorite season opener alongside Bargaining. "I'm Buffy, the Vampire Slayer. And you are?" just might be the most sublime Buffy moment in the entire series.
As always, snag 'em if you want 'em just give proper credit.
1)

2)
3)

4)
5)

6)

7)
8)