#1
- Thank you to whomever gifted me with a temporary paid account last month. Now I can create polls! Oh wonderful Anonymous Benefactor,
you have no idea
what you have unleashed upon this fandom.
#2
- Thanks also the the lovely
velvetwhip
for coming up with the insanely awesome title/tag phrase "tsunami of polls" and allowing me to snag it.
***************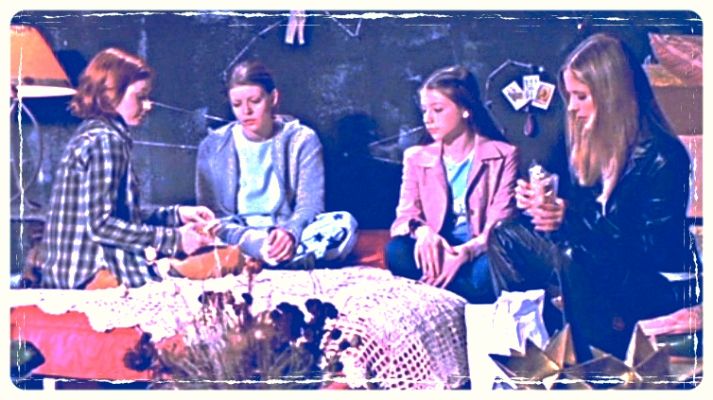 The other day I was having a conversation with
wickedbish
in which I
may
have mentioned that
most
fandoms and fandom activity, in my experience, are focused primarily on the male characters. I assumed this was common knowledge. Except that he didn't know that. Because, you see, Ryan's favorite character is Willow (see
#2
in his list of
"13 Witches I Fucking Love"
); he still mourns Tara (as do I; shared grief is comforting) and
Buffy is one of his heros
.
The Gift has convinced him to not commit suicide
"so many times". He's
all about the ladies
, bless.
You know what they say about "assuming".
Oops.
Then
clockwork_hart1
(Lucy) popped into the conversation and in her brilliant, enthusiastic way suggested the idea of a comm dedicated to Buffy, the other women in the 'verse and their interrelationships - complete with a name (
Summers Blood
) and a banner (she's working on it - is there no end to the young woman's talents?)
and three-part harmony
. What that might actually look like or what interest there would actually be in such a thing was a matter of conjecture. So I'm channeling my inner Willow (Research Gal) for my very first poll.
What say you, Gentle Reader?
Based just on the title of this post, you probably know who you are and how you stand.
(And as this is my first poll, please let me know if it functions ok. And I apologize for the wonky formatting. The LJ instructions for poll-making are vague and confusing at best. So says I.)
[
Look! A Poll! SHINY!
]