A bit of (free) advice for the belated birthday girl:

Dear Buffy,

If THIS is your lesbian best friend's idea of a vibrator...then it's probably time to get yourself some more lesbian friends.
For that matter, it's probably time your lesbian friend got herself some more lesbian friends.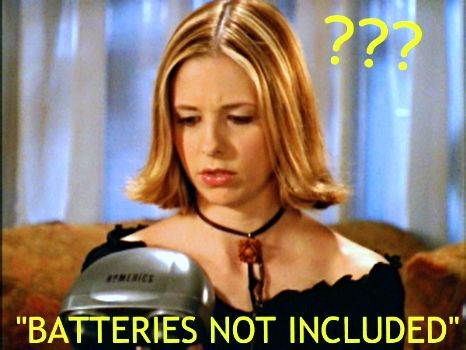 And they say I'm off my game...what the hell am I supposed to do with this on patrol, massage the demons to death?
****************
My friend
wickedbish
and the folks at
the Sunnydale Herald
reminded me that Sunday the 19th (more or less) was Buffy Summer's 33rd birthday.
(The really-real Buffy, of course. Accept no substitutes.)
I like to think that where ever in the world Buffy might be, she'd be enjoying herself right now, doing what she does best: dancing, fighting, fucking; treating herself to a spa day with Dawn in Rome; watching the sun rise to greet yet another day she'd never thought she live long enough to see.
Falling a little in love with the light every where she goes in the world. Visiting Paris because her mother had longed to as a young woman, before babies and her husband's career got in the way - and steadfastly avoiding the Eiffel Tower. (There's facing your fears, Buffy decides, and then there's masochism. Buffy isn't a masochist anymore.)
Wondering what tomorrow will bring and marveling that she can conceptualize "tomorrow". Leading an army into battle, or counseling a single girl in the privacy of her office. (She doesn't spend a lot of time in her office, but she likes knowing it's
there
. And that it has a great view of the Thames, a sturdy lock on the door; and a dent in the wall next to the file cabinet that a certain someone made when the two of them were...hence the lock on the door.)
Still saving, and changing, the world - with a little help from her friends.
She's saved my life this year - a lot: helped me process and deal with immediate traumas and distant ghosts; offered me a safe space to laugh, to grieve, and sometimes a haven from "real world" cares for a little bit. I've found support, encouragement, and connection, even if I've had to bite my tongue or wanted to tear my hair out at times. (Admit it : we've all been there.) She opened the door to this little corner of the universe called "buffyverse fandom" that is comforting, confounding and glorious, much like Buffy herself.