ETA: According to
yourlibrarian the Buffyverse Top 5 ends at 6pm EST in the US on Jan. 19th.
Took me three or four days
to write this post
celebrating my favorite friendship and non-canon OTF(amily). Not, mind you, three to four days sitting 8 hours straight at the computer, of course (more like, sit down, get up to do something, write a little more, go run errands in town, add another link, suddenly realize I'm hungry, come back and realize I'd added 6 stories, agonize over the descriptions, cook dinner, hit post. You know how it is...right?)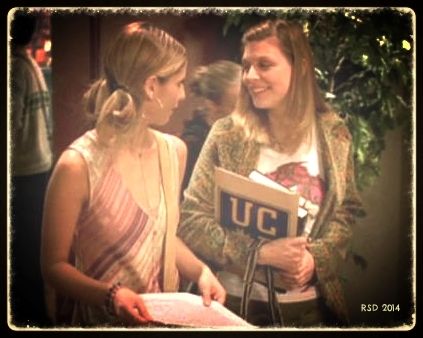 "Tara, did you check out these stories?"
"I told you there are people in fandom who love us just for ourselves, sweetie."
Every time I got on the computer to continue writing I'd peek nervously at
the BT5 home page
in case someone else did a post on the subject before I finished or rec'd the stories I planned to; because in this instance I literallly had five and only five stories on my list. Buffy and Tara friendship (or even B/T ship fics) are one of THE hardest things to find in this fandom. And the only reason I even had five on my list was because
punch_kicker15
rec'd new-to-me author
elviswhataguy
and literally saved my biscuits.
So, no one in swooped in before me, thank goodness; nor has anyone else done a "5 female-centric fics by
clockwork_hart1
" rec list. SHE'S MINE AND YOU CAN'T HAVE HER, PEOPLE. (I am, however, willing to share her on alternate Tuesdays.) No one else has done another meta list or an art list or...anything, actually, since
rebcake
posted her
AO3 list on Sunday
...three days ago.
Not that I'm trying to be a nag or anything, folks but....oh who the hell am I kidding? Ask my sweetie, she'll tell you: I AM an old-school nag and yes, I am nagging you right here and now. (A gal's gotta play to her strengths.)
DON'T LET BT5 DIE OUT! I need recs, lots of recs! Art, icons, fics, vids, essays! Show me stuff I haven't seen before, introduce me to people and to corners of fandom I didn't know existed. Show me that buffyverse fandom is about more than just "shipping" (romance, porn, whathaveyou.) Remind me of the richness of this verse as well as the unrealized posssibilities. Tell me something I don't know. Surprise me. Celebrate your favorite people and things - pimpage (aka "love") is what makes the fandom go 'round.
How else do you think I'm going to fill my empty hours and hone my talent for endless procrastination this year?
And if you won't do it for me, then, um....think of the children?