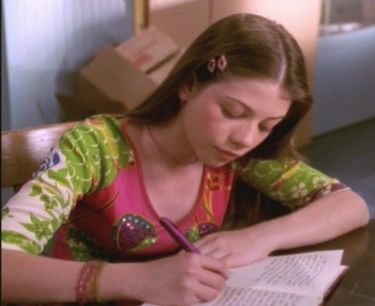 Dawn Summers writes the Great American Memoir.
[
Good stuff and then some...
]
1)
Funniest AU non-penguin Buffyverse fanfic of 2013?
In my
School Hard/Chosen
post the other day
rebcake
tossed out a
witty suggestion
about Buffy & Spike's final conversation in the Hellmouth taking a very different turn.
beer_good_foamy
took up the challenge and
ran with it
in his usual brilliant way; here's the longer finished version,
"Not in the Brochure"
. I haven't laughed this hard since - since I read his newest
AU penguin fic
two weeks ago. Start polishing those fanfiction awards
statuettes
buttons now, y'all.
2)
eilowyn
' s recent post
"Thoughts on Spuffy and Fandom"
sparked a fascinating conversation about the 'ship wars, focused specifically on the labels and the invention of "smushnames" Bangel, Spuffy, etc. (I'm going to copy/paste my smushnames rant from the thread because I'm lazy:
I hated "bennifer" etc long before I got into fandom because I find the concept loathesome - merging two people into one identity. It's ironic because I think the show is pretty consistent on the idea that losing oneself in another person is a bad idea.
Buffy and Angel are a direct critique of this notion - magical snow notwithstanding.) But I enjoy reading about the history of this fandom, in part because it makes me grateful to be a newbie fan and have missed the bloodbath.
Kumbaya
and all that jazz.
Somewhere along the way
comlodge
mentioned "Bike"
as a tongue-in-cheek alternative to Spuffy and I - did the thing I promised I'd
never
do and
wrote a prompt
about Buffy and her menz and bikes, with lots of fluffy-Spuffy. If I were as brilliant as BGF I'd have actually turned it into a story but since I'm not I'm letting
comlodge

's muse do the work for me. (I'm sneaky that way.) She gave me leave to repost it here so someone else could also have a crack at it. So without further ado - or a don't:

Spike and Buffy (post-series) with one of those old-fashioned "bicycles built for two" (which Spike would want to give a go because that was state-of-the-art technology in 1880) but they'd argue over who got to sit in front and where they were even going; then she'd insist on having her own bike, and he'd' say "Fine, whatever! I didn't want you breathing down my neck anyway!" or snark about her bad driving:"You want to get yourself killed? Your funeral, Slayer." (Substitute "motorcycle" there and it still works.) Then they'd try to outrace each other and end up pretty much in a draw but squabble over who beat who by a hairsbreath. And then tease each other and laugh about it, and shag in a semi-public place, and kill the demons who interrupted them, then shag some more.

(Because what's fanon Spuffy w/out snark and laughter and demon-killing and copious shagging? Bangel. Just sayin'.)



OTOH If it were Angel he'd insist on sitting up front, because he wants to be the chivalrous BDH, and she'd go along with it for a while because it's nice to let someone else take over for a while - until she realized he was lost and had to take over from him, despite his objections to the contrary. ("Angel, this is the tenth time we've passed that hill. Yes I know it's the same one!")


Whereas Riley would completely insist that Buffy sit up front and of course he didn't mind at all because he only wanted what she wanted and he loved her strength and competence - then spend the entire trip grumbling just under his breath that he wanted to sit on the front seat and she would have been able to read his mind and know what he wanted if she really truly loved him.I forgot Parker, btw - Buffy would make the arrangements, be waiting with the bikes and the picnic basket and he'd never show up, then give her some crap excuse a day later about visiting his mom and "I'm sorry you assumed I wanted to go out on a picnic with you, I didn't think you'd take it so seriously."

You can tell by the relative lengths of the various paragraphs where my heart lies, right? If not I'll gladly explain - at length, with finger-puppets or flashcards, your choice. Anyone want to add Scott Hope to the mix be my guest, because I don't give a damn and can't be bothered to rewatch S3 just for him. But if memory serves, he's kind of a proto-Riley anyway. Have at it, kids.