ETA 10/08/13: Dead Things screencap
Has anyone ever written a Buffyverse fic in which Giles, not Willow, becomes the Big Bad? The idea occurred to me not long after reading
the episode notes for WTTH
by
2maggie2
In the Bronze, Buffy sees Giles up on the balcony, and he calls her attention to the others out there dancing -- she's separate from them, with a duty to protect them. (The scene gets called back in season six in Dead Things when Spike adds another layer to Buffy's fundamental separation from others – but it starts here in the very first episode).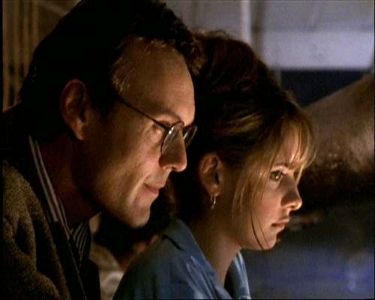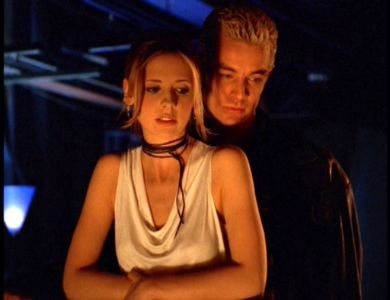 Maggie is talking specifically within the context of how Buffy is separated from her friends/family as the Slayer from the very first episode, but her comments brought back the memory of one of my first visceral reactions to the series. There was something astonishingly creepy about the way Giles is suddenly "there", beside her, an older man next to a 16-year-old girl (foreshadowing Bangel), and I didn't have a "bead" on his character yet. The idea that he would turn out to be a villain who betrays Buffy and isn't what he seems, was as likely a notion as anything else. All of which turns out to be true and false at the same time: he doesn't turn out to be a villain but he does have a dark past as the Ripper (as does Angel), he does betray Buffy at times (Helpless, LMPTM), he kills a man behind Buffy's back knowing she wouldn't approve (The Gift).
And when I watched the balcony scene in Dead Things ("Alone in dark with me") my mind was racing back to the parallel scene in WTTH, giving both scenes greater emotional power - foreshadowing squared to th
nth
egree. The writers surely could not have imagined any of these events when this was written and shot, bu
bless
* them for knowingly or unknowingly providing the bones right from the start for everything that was to come.
So if I'd had to guess which of the Core Four was most likely to become a Big Bad down the road at the time I was watching S1, I probably would have said Giles. So it got me wondering if "Giles as the Big Bad" has been done as a fanfiction. I can't imagine someone in the last 15 years hasn't played with the concept. If Willow as the Big Bad was fraught with emotional turmoil, the drama and angst of Giles in that role could make LMPTM look like a Sunday cake-walk.
So, gentle flisters - point me the way to one that's already been written, or let that little puppy play around in your head for a while until you come up with something grand. FYI : I've decided to adopt the term
plot puppy
because: it's still a small, cute animal that you can stroke and love and huggle, and it won't upset Anya needlessly. In this case, a puppy with very sharp teeth that isn't nearly as harmless as it looks.
ETA:
beer_good_foamy
and I both ended up rec'ing the same story in the convo thread below, "
All Set Down"
desoto_hia873
, an AU take on The Gift (and as you know I seem to have
a kink
for those.) Giles is forced to perform a terrible but necessary act. It doesn't quite fit the "Giles as Big Bad" criteria but it really is quite good.
** (Yes, I know Joss is an atheist. So am I. Or maybe agnostic. Let's go with "undecided".)

Posted on Dreamwidth http://red-satin-doll.dreamwidth.org/11747.html